Free Sewing Machine Scheme 2023, is the scheme invented for providing employment to women in our country. Free Sewing Machine Scheme was launched by Prime Minister Narendra Modi.
The Central Government runs different welfare schemes for women, farmers, and poor sections of society, Sewing Machine Scheme is one of these schemes that started to encourage women so that they will be independent. This scheme inspires women towards self-employment and helps to make them self-reliant.
More than 50,000 women taking advantage of the Free Sewing Machine Scheme and these women will be provided with free sewing machines. This scheme is already started in Maharashtra, Haryana, Gujrat, Uttar Pradesh, Rajasthan, Chattisgarh, Bihar, Madhya Pradesh, and Karnataka states.
All Candidates who are inclined to apply online application then download official notification and read all eligibility criteria and application process carefully. Let's check out the online application process, features, benefits, and more about the scheme.
| | |
| --- | --- |
| Name of Scheme | Free Silai Machine Yojana (FSMY) |
| in Language | फ्री सिलाई मशीन योजनाs |
| Launched by | Central Government of India |
| Beneficiaries | Poor and labor women of the country |
| Scheme under | State Government |
| Name of State | All India |
Free Sewing Machine Scheme 2023 Objective:
The main objective of this scheme is to provide free sewing machines to the economically weaker women in rural and urban areas in our country
Through this scheme, women can sew clothes at home and can start small sewing businesses to look after their families
This scheme will help women to earn money so that they can be independent
Under this scheme, more than 50 thousand women in every state will get free sewing machines
This scheme helps to empower economically weaker women and can motivate them towards employment
Through this scheme, the condition of rural women will be enhanced
Free Sewing Machine Scheme Apply Online:
Step 1- Visit the Free Sewing Machine Scheme Official Website
Step 2- Then click on the Option "सिलाई मशीनों की मुफ्त आपूर्ति के लिए आवेदन प्रपत्र" Link.
Step 3- The application Form page will be displayed on the screen in PDF Format and take a printout of it.
Step 4- Now fill in the necessary details such as Name, Father/ Husband Name, Date of Birth, and the other information in the form.
Step 5- After filling in all the valid information, an applicant will have to attach all the valid documents and the photocopy with the form.
Step 6- After this applicant has to submit this form to the respective office.
Step 7- Then your application form will be checked by the office officer.
Step 8- After checking the form you will be supplied with a free sewing machine.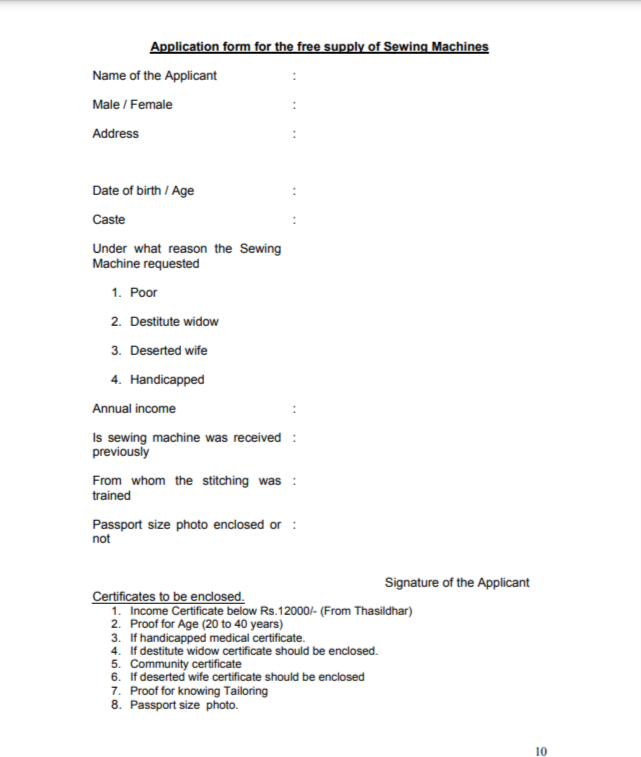 Free Silai Machine Yojana Documents:
Applicant's Aadhaar card
Age certificate
Income Certificate
Identity Card
Community Certificate
Mobile Number
Passport Size Photo
Disabled medical Certificate (if women are disabled)
Destitute Widow Certificate (if the woman is a widow)
Free Silai Machine Yojana Eligibility Criteria:
Applicants must have to be Indian citizens.
The applicant's age should be between 20 to 40 years.
The annual income of the Applicant Women's husband should not exceed Rs. 12000.
Only economically weaker women of the country will be eligible under this scheme.
In this scheme, Widows and disabled women can also be included and get benefits from the scheme.
Free Sewing Machine Scheme Features:
Under this scheme, more than 50 thousand women will be given free sewing machines in every state.
Prime Minister Free Sewing Machine Scheme also motivates women to start their own businesses.
This scheme has been executed in some of the states, later this scheme will be executed across the country.
Free Sewing Machine Scheme Benefits:
In this scheme, free sewing machines are supplied to the poor and labor women of our country
The major benefit of this scheme is, by implementing this scheme the economic condition of women's families will be better
Women can earn a good income through sewing clothes at home
This scheme will also make the life of women self-dependent
States Involved Under The Scheme:
Maharashtra
Haryana
Gujrat
Karnataka
Rajasthan
Uttar Pradesh
Madhya Pradesh
Bihar
Chattisgarh
Here, we cover a small piece of information about the Pradhan Mantri Free Sewing Machine Yojana. For the application process and to know more about the PM Free Sewing Machine Yojana and other government schemes you can visit the Free Sewing Machine Scheme Official Website. Stay tuned to get notified about the other Government schemes.